On May 10th, Google announced an update for Search, integrating Google's generative AI technology into query responses. MOW has previously outlined our summary views on the risks associated with the transition to the answer engine model, including those relating to copyright and publisher disintermediation (see our post linked here).
Google's announcement also raises the quite separate issue of self-preferencing. Fundamentally, Google looks to be leveraging its dominance in one market (Search) to promote its offering in the market for Chatbots.
Such behaviour clearly contravenes the Commission's decision in the Shopping case, in which Google was fined 2.4 billion euros for preferring its proprietary comparison shopping service over those of rivals.
Importantly, the Commission did not have to demonstrate that Search was an "indispensable" route to market, nor that the company's conduct had actual anticompetitive effects, but rather that Google had abused its "super-dominant" position in a way that had potentially anticompetitive effects.
The company's conduct in this case would seem to equally meet this test and should embolden regulators to pursue swift prohibitive measures.
Though Google is not the first browser vendor to combine AI technology with search – Microsoft having already integrated BingGPT – Google's planned update is substantively different from that of its rival (a company which is also crucially not dominant in the market for search engines).
See below for a side-by-side comparison: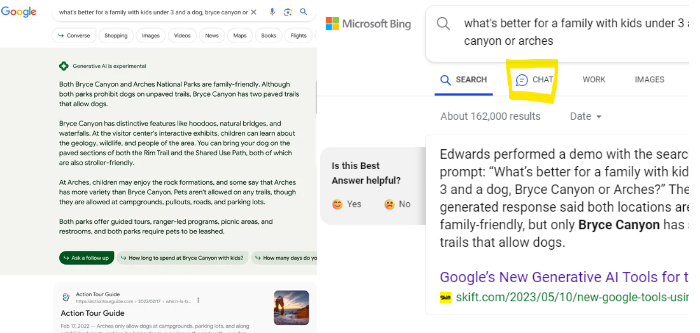 Where Google automatically integrates its generative response above the organic results page, BingGPT is a separate feature to the ordinary results page, which the user has to manually select.
The potential detrimental impact on competition and innovation entailed is strikingly clear. Google is giving its (arguably inferior) AI tool an unfair advantage by bolting it onto by far the most popular search engine, and thus restricting effective choice. Consumers will use Google's offering not out of preference, but false convenience. Indeed, whilst a chatbot integration might be a beneficial feature for some users, healthy competition and sustained innovation necessitates that this be a positive choice, where users are able to select from an array of options.
We would, accordingly, encourage any competition regulator to seek a quick temporary remedy in the form of an injunction, as the CMA did in response to Google's planned removal of third-party cookies.