The Movement for an Open Web has this week called on the UK Competition and Markets Authority to introduce remedies to the Mobile Ecosystems study – focusing on the broad impacts of Google's Privacy Sandbox.
The below slides show the necessity for these remedies – that Google's proposed changes are intended to operate in a way that would discriminate against rivals providing competing solutions.
A technological, legal, or financial discrimination can take many forms, therefore it is of vital importance that measures which monitor such discrimination and which ensure the separation of the browser are implemented.
Below is a guide through the current state of the user journey online, including Google's current grip over the user experience and how they plan to change this in an anticompetitive way, as well as the details of MOW's proposed remedies.
MOW outlines the current position in figure 1 below:
The overview in figure 1 illustrates how sign-in is used to take end user data, and the data flows that then follow in the advertising supply chains.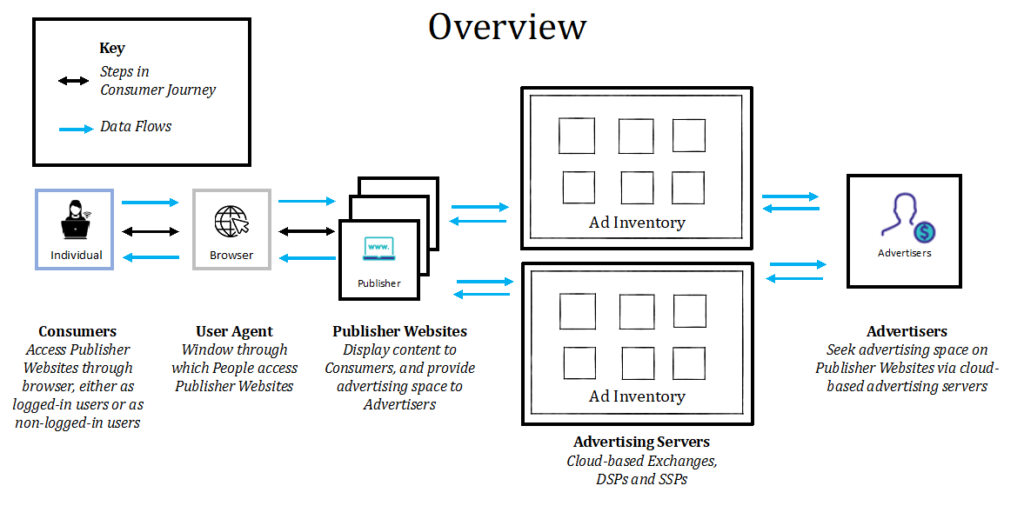 MOW outlines in figure 2 the current user journey (logged in).
By signing in at the browser level, their identity is recorded as part of the data flow: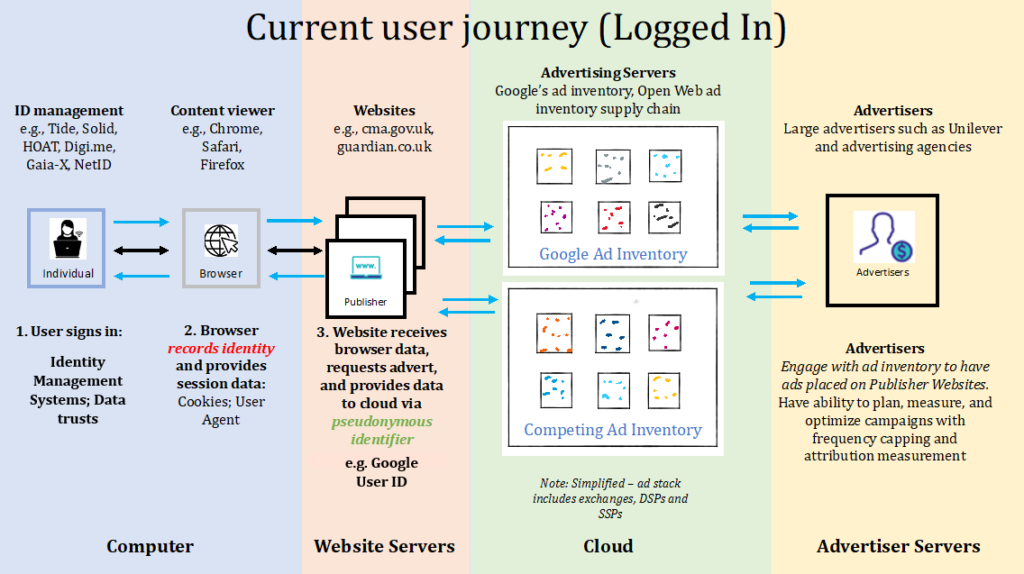 And in figure 3 the user journey (not logged in), which does not tie an individual's specific identity to the data flow: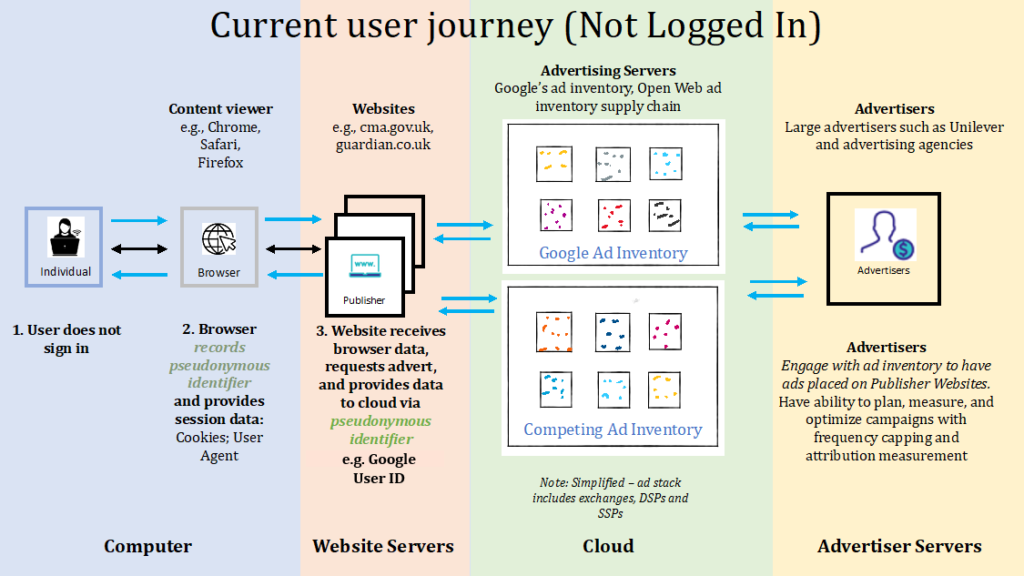 In figure 4 MOW illustrates the separate actions being taken by Google, and how they together impact competitors: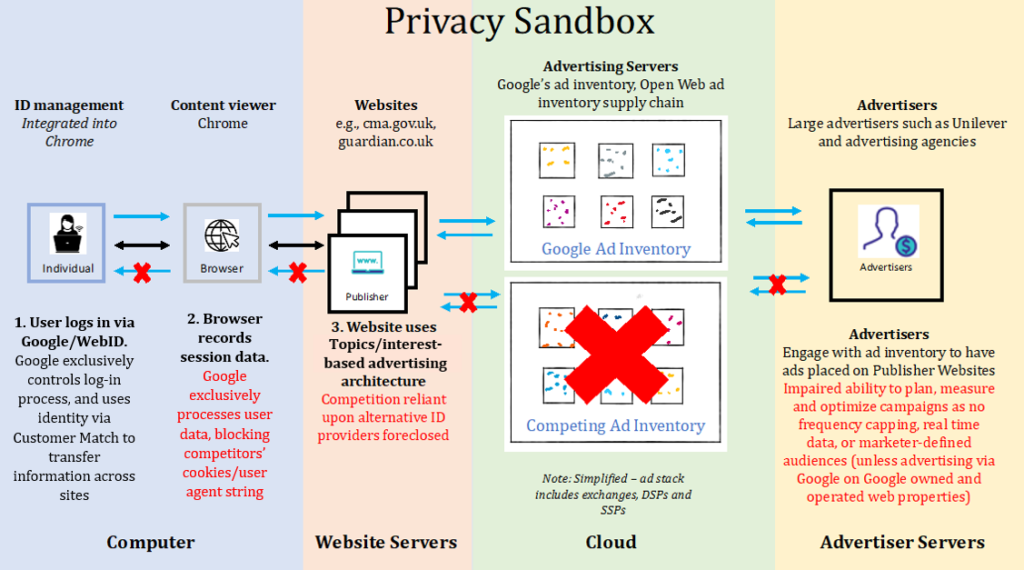 In figure 5 MOW outlines how a remedy to unbundle data from the sign in system at the browser level would enable greater competition, and maintain user privacy using pseudonymous identifiers: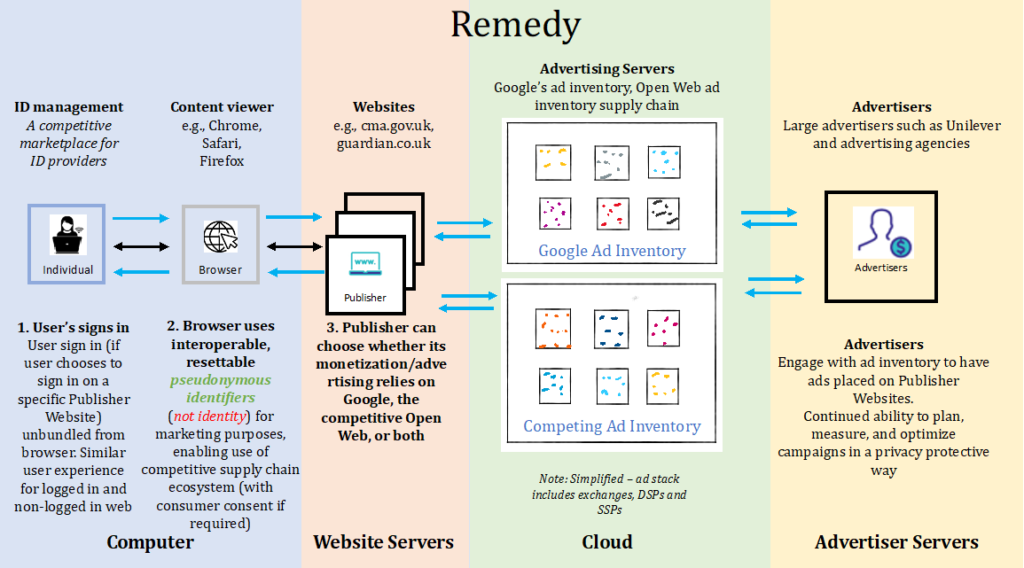 About the CMA's Mobile Ecosystems Study
The CMA's Mobile Ecosystems study was opened in June 2021, investigating Google and Apple's effective duopoly over mobile operating systems (Android and iOS), app stores (Google Play store and Apple App Store) and mobile browsers (Chrome and Safari).
The CMA is looking into whether the two firms' control over mobile ecosystems is stifling competition across a range of digital markets.
It is concerned this could lead to reduced innovation across the sector and consumers paying higher prices for devices and apps, or for other goods and services due to higher advertising prices.
The study will also examine any effects of the firms' market power over other businesses – such as app developers – which rely on Apple or Google to market their products to customers via their phones.
For more information on the Mobile Ecosystems Market Study, visit the CMA's website.
About the Movement for an Open Web
The Movement for an Open Web represents a network of businesses, publishers and advertisers that oppose all attempts by trillion-dollar companies to unilaterally restrict competition across the open web for their own benefit.
Google's proposed changes to cookies and user data collection are a prime example of this – and will be bad for consumers and competitors.
If you want to help oppose these kinds of anti-competitive tech practices, consider joining the Movement for an Open Web.
To find out more about membership or for other enquiries, contact [email protected].
Header image courtesy of Jonathan Kemper on Unsplash (licensed for use under the Unsplash License)